Description
We would like to welcome tech-driven executives, real estate agents, and brokers to the Blockchain For Real event. With Leaders as Michael Arrington, executives from NAR, Metaprop, Moderne Ventures we'll explore what's happening in blockchain and real estate today.
Topics will include Tokenization, Cybersecurity, Opportunity zones and many more.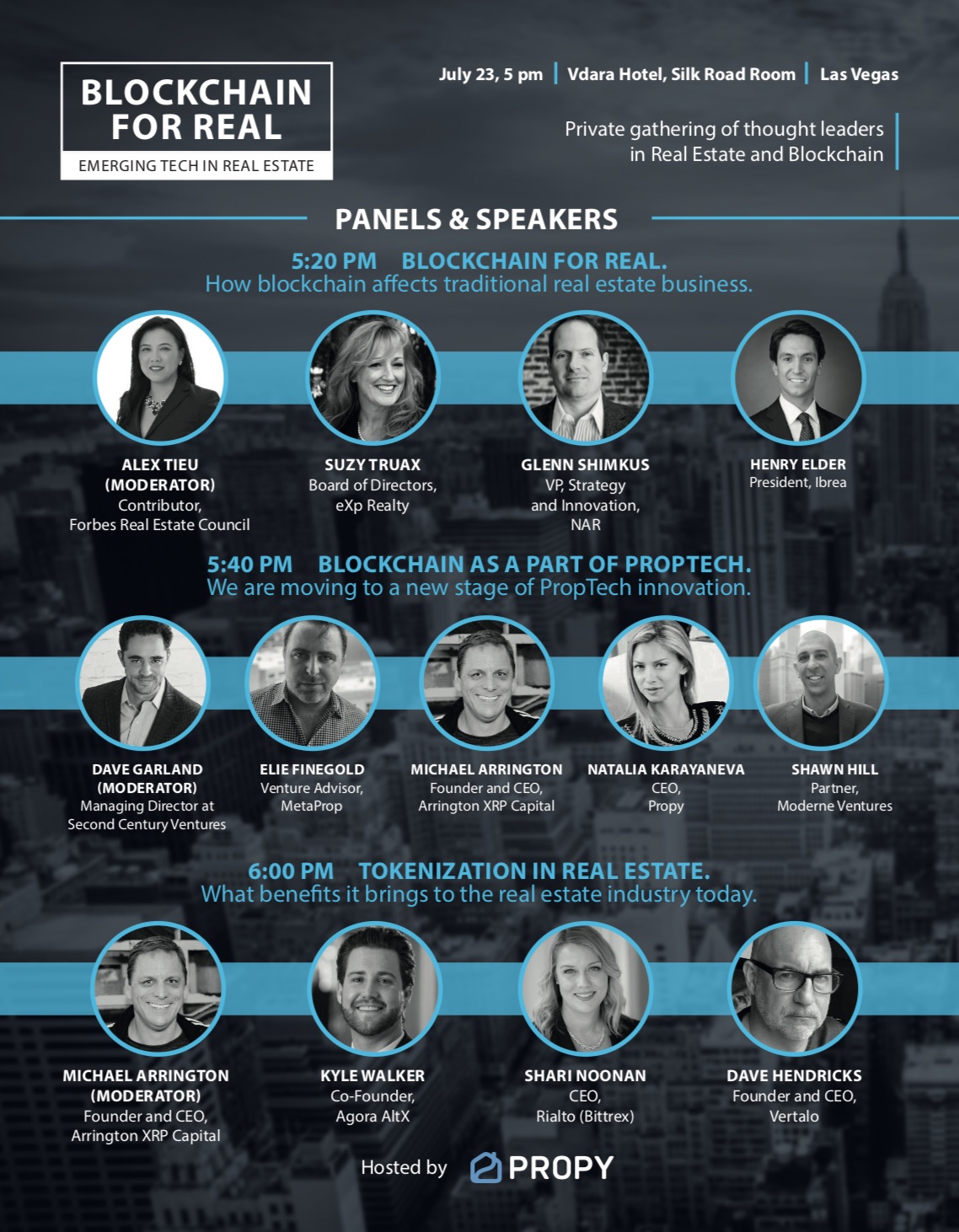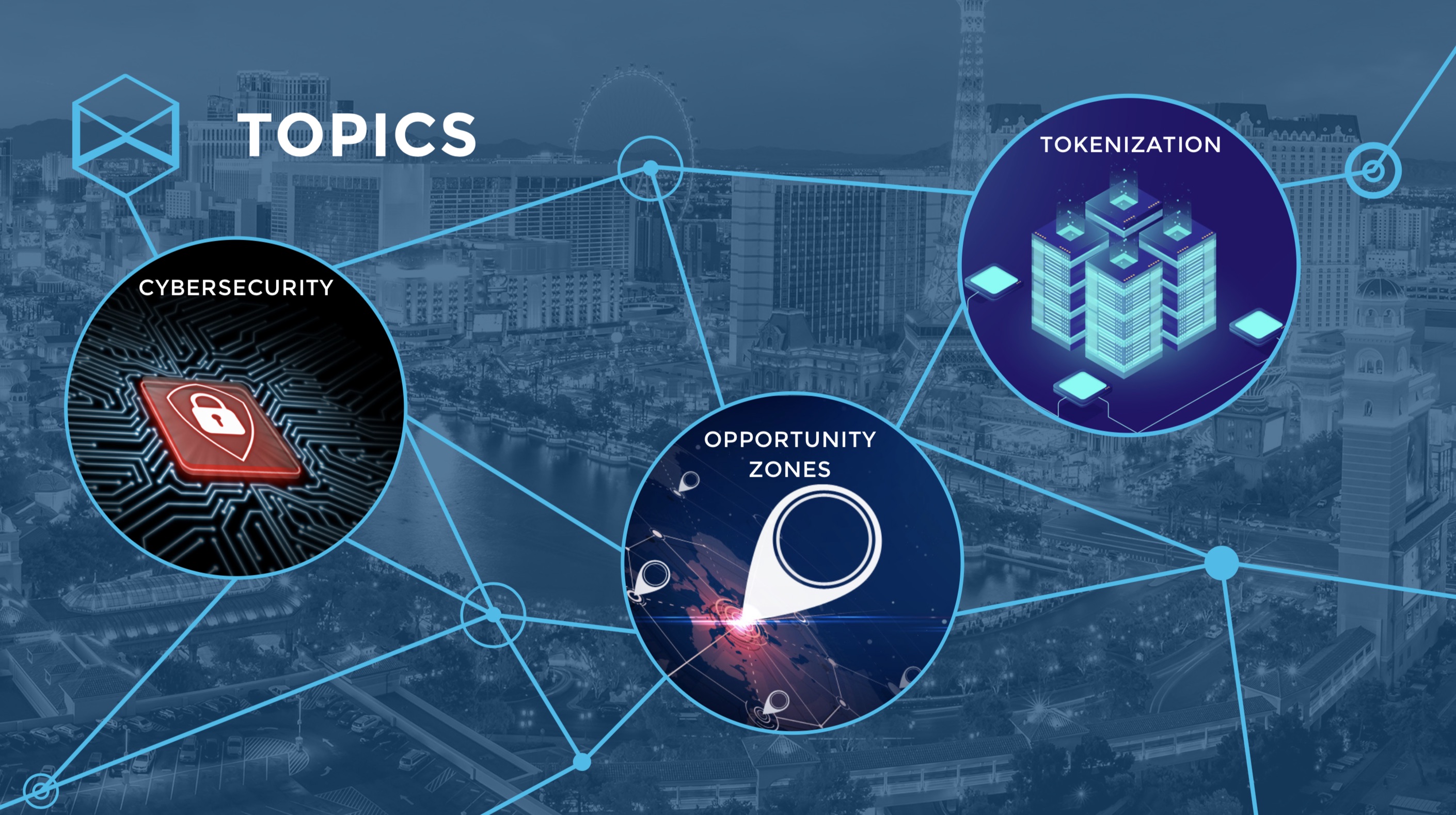 WHO THIS EVENT IS FOR?
For real estate professionals, it's an opportunity to learn more about how blockchain and other emerging technology can streamline the operations and add an extra layer of cybersecurity.
For funds and retail investors, it's a chance to find out the benefits of tokenization, its current state and how to get involved in it right now.
For blockchain enthusiast, it's a place to learn more about actual blockchain adoption in one of the largest industries in the USA.
EVENT PROGRAM:
4:30 - 5:25 pm - Drinks and Snacks / Networking
5:20 - 5:40 pm - Panel 1. How blockchain affects traditional real estate business?
Alex Tieu (moderator), Contributor Forbes Real Estate Council

Glenn Shimkus, VP, Strategy and Innovation at NAR

Suzy Truax, Board of Directors at eXp Realty

Henry Elder, President at IBREA
5:40 - 6:00 pm - Panel 2. Blockchain and PropTech. Entering a new stage of PropTech innovation

Dave Garland (moderator), Managing Director at

Second Century Ventures

Michael Arrington, Founder and CEO at Arrington XRP Capital

Natalia Karayaneva, CEO at Propy
Elie Finegold, Venture Advisor at

MetaProp

Shawn Hill, Partner Moderne Ventures
6:00 - 6:20 pm - Panel 3. Tokenization in real estate. What benefits it brings to the real estate industry today.
Michael Arrington (moderator), Founder and CEO at Arrington XRP Capital

Shari Noonan, CEO at Rialto

Dave Hendricks, Founder and CEO at Vertalo

Kyle Walker, Co-Founder at Agora AltX
6:30 - 8:00 pm Drinks and Snacks / Networking
SPEAKERS BIOS
Michael Arrington, Founder and CEO at Arrington XRP Capital
Michael most recently Co-Founded Arrington XRP Capital after leading TechCrunch to a successful exit with AOL. His venture investments include Uber, Airbnb and Pinterest. Michael was the Editor of TechCrunch, which he founded in 2005. In 2008 Time Magazine named Michael "One of the World's 100 most influential people".
Glenn Shimkus, VP, Strategy and Innovation at NAR
Glenn is a tech entrepreneur/investor/advisor and product guy w/ focus on design & usability. Passion for people, tech & Chicago. A recognized thought leader in the fields of document/content management, real estate tech, mobile and the cloud. Advisor to DocuSign and Relativity.
Suzy Truax, Board of Directors at eXp Realty
eXp Realty is the fastest growing virtual brokerage with over 25k agents. Suzy and her team represent the pinnacle of a modern real estate professional. Tech and data native, crypto fluent and customer-centric, Suzy has assembled a team of global high-achievers to provide her clientele world-class expertise and guidance in every aspect of the complex Bay Area real estate landscape.
Natalia Karayaneva, CEO at Propy

Software engineer, Oxford alumni, a frequent speaker at blockchain and real estate conferences, advisor to Arrington XRP Capital, Contributor to Forbes. For 12 years, Natalia was part of the international real estate world. At the beginning of 2016, blockchain technology made it possible for her and her team to firmly believe that the real estate industry will never be the same again.
Alexandra Tieu, Forbes Real Estate Council
Alexandra Tieu is a member of the Forbes Real Estate Council a veteran in the industry her experience includes Operating Partner of the Keller Williams downtown Los Angeles and Head Broker for Movoto Real Estate, she oversaw over 1000 real estate agents and over 1 billion dollars in revenue. She seats on the advisory board of Propy and is a frequent contributor and speaker at Harvard Business School, WomanUp, Inman, Forbes, AREAA and Gary Vaynerchuk's Agent 2021. Prior to her career in real estate, Alex's political career includes working at the White House for President Clinton, Vice President Gore and with members of Congress.
Dave Garland (Moderator), Managing Director at SVC Fund and REACH Program
Dave Garland is responsible for sourcing and evaluating investment opportunities that promise to improve the global residential and commercial real estate industries. He brings over 18 years of strategic advisory experience to numerous venture-backed, public and private real estate companies - bridging these entities with established brokerages and technology firms. As a startup investor, he sits on several boards of growing real estate and mortgage technology organizations.
Shawn Hill, Partner Moderne Ventures
Shawn Hill is a Partner at Moderne Ventures. Moderne Ventures is a venture fund that invests in early-stage technology companies in real estate, finance, insurance, and home services. He works strategically with technology companies and members of the Moderne Network to source investments while building synergistic value between industry executives and Moderne's portfolio and providing operating support to portfolio companies.
Shari Noonan, CEO at Rialto
Shari Noonan is Rialto's CEO and has more than 20 years of experience in the financial services industry. Rialto Trading delivers electronic trading solutions to participants in the corporate bond market. Shari has extensive experience in building and scaling operations and products with Deutsche Bank, Goldman, and Instinet and was directly involved in the electronification of the Equities market. She worked to develop many of the initial products in equities electronic trading, including dark pools, advanced algorithms, and electronic negotiations. She received a BS in Accounting from Marquette University and MBA from Columbia University and holds Series 3,7,24,55,63 registrations.

Dave Hendricks, Founder and CEO at Vertalo
Vertalo is a Liquidity Enablement Platform working with Custody Platforms, Broker-Dealers, Exchanges, Issuers and other digital asset and tokenization technology companies on problems related to SEC and FINRA Compliance. Prior to founding Vertalo, Dave cofounded LiveIntent, the largest programmatic email advertising platform in the world with more than 3000 publisher clients serving real-time email ads to more than 100 million daily average uniques.

Kyle Walker, Co-Founder at Agora AltX

Agora AltX records connect, and streamlines information logistics in the alternative investment transaction, providing increased efficiency and transparency to participants. Agora AltX empowers investors to create a consolidated view of their portfolio (stocks, bonds and alternative investments) and specifically analyze how to optimize their after-tax-return on Opportunity Zone Investments. Further, Agora AltX provides investors with verifiable data to expedite the due diligence and investment management processes.
MORE ABOUT ORGANIZERS
The event is brought to you by the team behind еру leading blockchain conference in Silicon Valley - World Crypto Economic Forum
CONTACT US
This event is invitation-only. To be considered for participation, please email us at magdim@propy.com.
We support Indie Brokerages. If you an owner of an independent brokerage, please email us for an extra ticket discount: magdim@propy.com.
For speaking and sponsorship inquiries please email Magdim Metshin at magdim@propy.com.
For general questions please email blog@propy.com